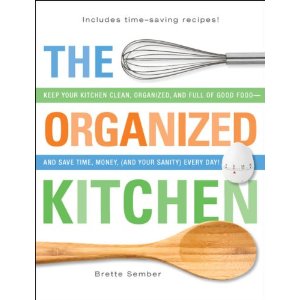 One of the fun benefits of being part of Freelance Success is that I hear about any new books that are coming out. Here again, I have an interview with Brette Sember, the author of The Parchment Paper Cookbook and The Muffin Tin Cookbook and now author of The Organized Kitchen: Keep Your Kitchen Clean, Organized, and Full of Good Food and Save Time, Money, (and Your Sanity) Every Day!
Who is The Organized Kitchen written for?
It's for anyone who feels their kitchen is too small, too cluttered, disorganized, and something that is standing in the way of actually cooking and using the room to its greatest potential. Lots of people think their kitchens are too small but actually most people do not optimize the space they have, so by following some easy tips you can feel as if you have more space. I'm a busy mom, so I understand the challenges of trying to cook, supervise homework, feed the dog, fold laundry, pay bills, and basically manage your entire family life from the kitchen. This book makes all of that easier!

What are you most proud of in the book?
I love that the book is not just about organizing but about making the most of your kitchen. It talks about cleaning, personalizing the space, storing food properly, and learning how to shop and cook efficiently. I really hope the book helps people feel better about their kitchens. I have found that even small changes can drastically improve how you feel about your kitchen and how inclined you are to use. I used to have a lower cabinet that was my baking cupboard, but it was one of those cupboards that just had a half shelf at the back, so I would jam tons of stuff in it and often it would all come tumbling out. It made me not want to bake because it was such a hassle to find the pan I needed. One day my ceramic pie pan tumbled out and broke. Well, that was that. I bought two roll out wire drawers, one for the bottom and one for the top in that cabinet. It made that cabinet SO easy to use. Now I just roll the drawer out, take what I need and roll it back in. No mess, nothing crashing to the floor. It makes baking a pleasure now.
What is the biggest mistake parents make regarding kitchen organization?
I think the biggest problem is that people ask the kitchen to do too much. We tend to gravitate there and do just about everything, but your average kitchen just does not have enough storage space for toys, homework supplies, crafting materials, household files, etc. Look for other storage places in your home for some of these items and think about redirecting some activities to other rooms. My kids used to do some crafts at a table in the basement – that freed up a lot of space for me. Even if you want some things to continue to happen at the kitchen table, store the supplies in the next room.
There are going to be some tired moms reading this review so what are the benefits of an organized kitchen?
If your kitchen is organized it saves you so much time and headache. You can put your hands on exactly what you need and you don't spend time digging around in drawers or cupboards. If you know exactly what food items you have on hand (via the list I suggest you keep on your freezer and pantry doors) you'll be able to generate meal ideas and won't have the frustration of starting to make something only to realize you are out of onions or baking powder. Adopting a cleaning schedule for the kitchen makes it much easier to keep the space clean without giving it much thought or having to have one of those days where you realize it is disgusting and you need to spend the entire day scrubbing it from top to bottom. The book also offers meal planning ideas as well as information about how to cook for a month at a time. It has a whole section on how to organize the children's items that end up in your kitchen as well and gives you ideas on how to make the space pretty, functional, and attractive.
The kitchen is the heart of the home, and if that room feels calm and in control, the rest of your life will follow.


Is there anything else you'd like to add?
One gripe I always have had about TV shows that re-organize rooms or closets is that they take half the stuff out and then suddenly it looks much roomier and organized. In writing this book, I realized that while it is important to purge (who needs 4 wooden spoons or all those plastic take out containers?) it's all about using your space in a smart way. It's not reasonable to tell the average mom she needs to get rid of half of what's in her kitchen. She wants suggestions about how to fit the stuff she has! So that is what I tried to do.
Thank you, Brette. To enter to win a copy of this helpful book, please leave an organizational tip you use at your house or a question for Brette.
You can get two more entries if you share this cookbook giveaway on your facebook page and you tweet about the giveaway and come back and leave me a comment that you did. The contest will close Friday at noon, PST.