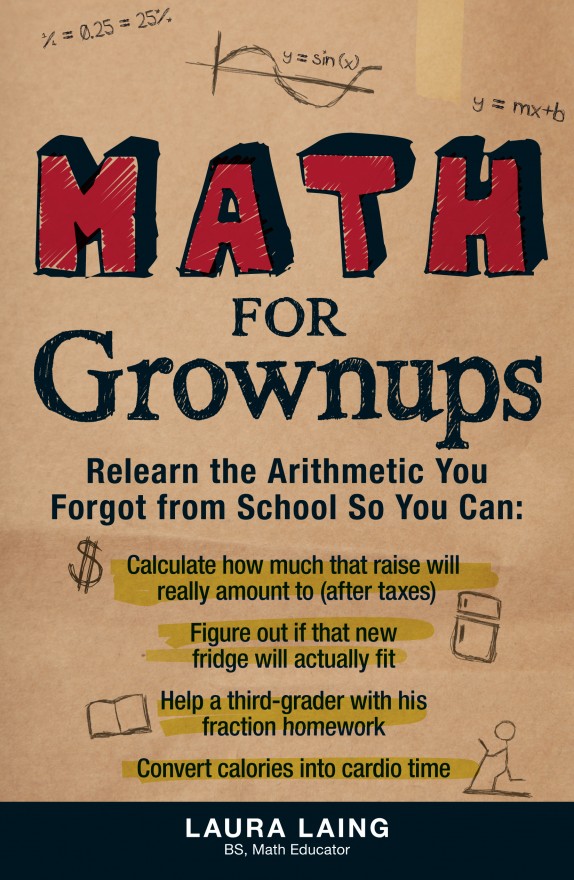 Today I'd like to welcome Laura Laing, author of the new book Math For Grownups to Imp3rfect Mom. She has some important insight about math anxiety and our kids.
by Laura Laing
Things that make many kids anxious: a new school, big dogs, the deep end of the swimming pool, bees, strangers, nightmares, math.
Did you notice something there?  For many children, math and bees are equally frightening or at least nerve-wracking.
Not all kids have math anxiety, but it's not uncommon for elementary, middle or high school students to express nervousness about learning math or taking math tests.  At the same time, these students may also feel less confident in their math skills or even say that they hate math.
This is not a good thing.
As a parent, you may not be able to convince your child that they love math, but you can help them tolerate the subject and—better yet—ease their anxiety.  And since we parents may well have helped instill that sense of math anxiety, we probably ought to do something about it.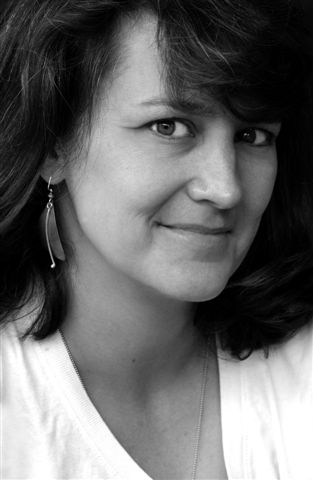 Allow your kids to fail  Kids aren't given enough opportunities to try out math without looking for the so-called "right" answer.  In school, they're being graded almost all the time, so why not introduce them to some low-stakes math problems at home.  Get them involved with cooking (and let them screw up a recipe).  Have them put their measuring and conversion skills to work in the sewing room (and let them see how small an 1/8" seam really is).  Allow your kids to focus on the process, not the outcome.
Show your kids' your mistakes  Even with a math degree, I've made some pretty outrageous math mess-ups—and I'm guessing you have, too.  (I once ordered way too much lumber for a simple backyard project, because I miscalculated what I would need.  The extra is still lying under the now-completed deck.)  No parent wants to look like a total screw-up, but being open with your math mistakes is critical for reducing your kids' anxiety.  Bottom line: Our math mistakes aren't generally life-or-death; our kids need to see that first hand.
Talk about their anxiety  Reassure your kids that their anxiety is normal—but that they can and should get over it.  Talk to them about what they're thinking and help them verbalize their fears.  Older kids can rationalize their illogical thoughts.  Younger kids may do well with simple relaxation techniques like deep breathing.
Be careful of the messages you send  Think you're bad at math?  Keep that sentiment to yourself.  Kids internalize these messages quickly.  (Which is why that Barbie that said "Math is hard!" was such a dumb toy.)  Even if they don't act like it, our children do want to be like us—but math anxiety is not something you want them to emulate, right?  Also be careful of over-emphasizing grades.  Instead, remind your kids that they'll be reviewing the same math concepts over and over again.  If they're not successful the first time, they'll have another chance to learn it.
Talk to your child's teacher  All kids are different at school than they are at home, and it's entirely possible that Ms. Bloom is not aware of your child's math anxiety.  She may have some great tricks to help ease her students' minds.  But be aware that some teachers may have math anxiety themselves.  If you feel that the teacher is not being proactive, you need to advocate for your child in different ways.
Laura Laing is the author of Math for Grownups, a funny and accessible look at how adults use math in their everyday lives.  She blogs at www.mathforgrownups.com.
Wouldn't this be a great book to share with your kids when they ask, "why do I need to learn this?" So if you'd like to enter to win a free copy of Math for Grownups, you can have four entries to win:
1. Leave a comment: What do you do as a mom to help your kid's math anxiety? Or do you have a question for Laura about Math anxiety? I'll see if I can ask her to check back and answer any Math anxiety questions. 
2. Please tweet this post and COME BACK and leave another comment.
3. Facebook about this contest and leave another comment.
4. Like Math for Grownups Facebook and leave your 4th entry. 🙂
The winner of this contest will be selected after Thursday, noon, PST.