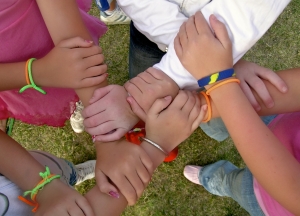 One thing I've recently learned about blogging is it's about community. I can't just blog and expect others to come in droves. Daily time set aside to read other blogs and leave comments is an necessary aspect of community. Blogging is about conversation. Remember when your mom said,
"It's nice to share."
Here are a few people who have encouraged me on my blogging journey by talking about IM.
SecondAct.com featured my blog along with others during the Blogathon at: Blogging Their Way to a Midlife Makeover. Thank you, Michele Rafter.
Lisa Salamonis featured Imp3rfect Mom on her Teaching/Blog: Increasing Freelance Revenue.  Thank you, Lisa.
And there are times that your words help someone along on their journey. Julie at Aunty JuJu's Perspective shares her growth and steep learning curve with the completion of the Blogathon.
I'm still learning to share the love more by including links in my blog and mentioning good things others are doing at their blog. There's a lot to remember sometimes…but I'm finding, it's so worth it.
Who have you shared with?