Today as one of the theme days on the Blogathon, we are to blog about the 5 favorite places where we love to write.
1. The living room couch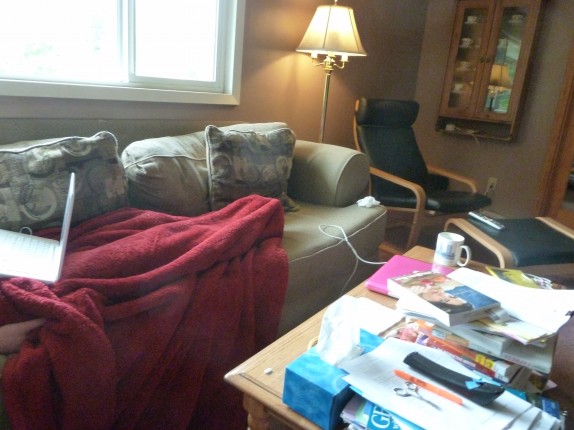 Our living room couch is the hub of our home some days. It scoots up to a south-facing window, and I have homeschooled for 15 years sitting on that couch. Dear hubby tried to make a homeschool room upstairs but for me it was just too dark. I realized that it's one of the few places that I can get what little sunshine there is here in the Northwest. So I plop my self down in the early morning before anyone is awake to write.
2. West Linn Library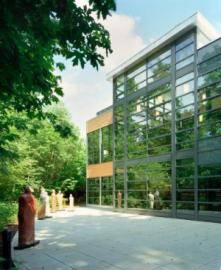 There is a corner spot in this beautiful library surrounded by windows that I sneak off to when I have some serious writing to get done. As I weave through the shelves of books, I hold my breath hoping that this tiny oasis is not occupied.
This sanctuary is sentimental to me because when I was in my first online writer's class, my oldest son and I went together to do "our homework." At the time, he was at a community college. Equipped with coffee and determination, we each picked our hideaway spots in the library and scribbled and scratched for four hours. It was treasure to share the time with him and to begin to feel a new dream birthing in me.
3. My Desk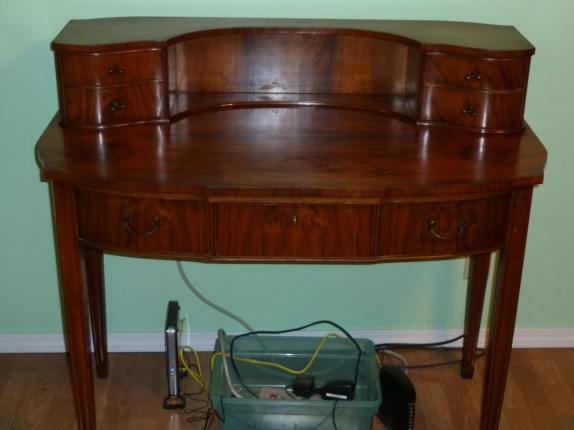 Isn't this a gorgeous desk?
I don't use it.What?
I'm still looking for a window to put it up against. Maybe my older kids need to move out so we'd have more room?  In fact, my oldest daughter has a fabulous view out her bedroom window on the 2nd story looking out on our property. I have first dibbs.
4. Our Room
Another closer to home place when I have to get an assignment done is my bedroom. I set up pillows on my bed, plug in my 'puter, place a glass of water up on my dresser, light a candle and tell everyone to only come in if someone is bleeding. And I mean it this time. 😉
5. And any coffee shop that's convenient.
I'm beginning to realize I'm way too social to write  in an open public area. I get distracted when people walk by or girlfriends visit a little too loud or passerbys make comments on my PINK laptop. I jump on Facebook and Twitter and read a few blogs and don't get much done…Coffee shops may be fun but you I can't concentrate.
So where do you write? Or think or ponder?