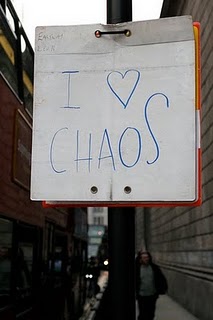 Total chaos reigned this morning at breakfast because, you see, my biggest is home for the weekend. There were five different conversations going on. Kids running back and forth. Hubby was asking a question about what someone said but he didn't hear it correctly. Dishes were clanging. Our cat complained because she had to be removed from her favorite chair where she sleeps so someone could sit at the table. Blowdryers and washing machines were humming. There were seven different breakfasts being made by their owners as well as wise cracks and laughter. I thought to myself, "Since oldest son and oldest daughter have been away at college, it's been a lot quieter. And now since they're home, we're back to normal…well…at least OUR normal.
I'm often entertained by people's responses to my answer "5, Yes, I have 5 children." There's a quick, shocked look and then a sigh of relief when they realize that they don't have that many. I frequently hear, "Well, I'm glad it's you and not me." You know, I am glad it's me, too!
No matter, how many you have, Happy Mother's Day to you!
Photo courtesy by zoonabar (Creative Commons)