I suppose if you just found my blog, you'd think I'm talking about some huge event in my life.
No…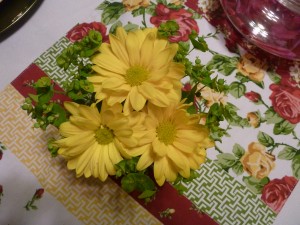 Tomorrow morning I'm going to have five women over for a light lunch and yummy dessert.
They are safe, warm friends from church who are coming over just to hang out with for a few hours.
My house is cleaner, my table is set, potatoes scrubbed, cheesecake is in the fridge just chillin' thanks to my dear hubby and now – I can relax.
Tonight I want to record my fears/concerns so after tomorrow I can see what is truth and what is a lie. I think fears are lies we tell ourselves.
Earlier today I wanted to put off a few chores but I thought about my advice on the blog like:
* Plan so you don't panic at the last minute.
* Be ready an hour early so you can pray, relax, and just be in the moment.
* Make it about them and don't expect accolades about any of the food or how nice the table looks. If someone compliments, say thank you but don't give a long explanation on what you were going to do but didn't, blah, blah, blah.
* Use convenience foods. I bought bagged salad and bacon bits for the potatoes.
* If we end up in the living room rather than staying at the kitchen table, don't freak out because our couch looks like early American attic.
Well, pretty good advice if I do say. We'll see how it all comes together tomorrow.
Any last minute thoughts to share with me?