Since hospitality is a key element in my faith, I want to leave my children a legacy of opening my home and inviting others to be part of our family.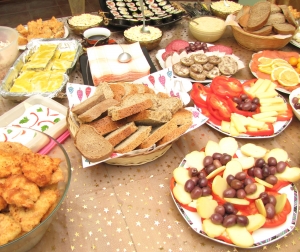 When my kids were younger for four or five years in November, we opened our home to 20 or so teenagers along with some parents to have an early Thanksgiving dinner. We supplied the turkey, mashed potatoes and gravy while everyone brought a dish as well as various toys to fill the Samaritan's Purse Christmas shoe boxes for kids around the world. Our home buzzed with activity those evenings with laughter, singing, and crazy fun.
Our home has supplied "a home away from home" for various college students who needed a place to crash over the weekend or if they needed a ride to the airport from school.
I tell the kids to make themselves at home and anything they can find in the 'fridge, they can have. They're not guests so I'll yell at them just like I'd yell at my kids. And somehow they just seem to grin.
I want my kids to learn that you can throw together food and provide a fun atmosphere for their friends without a lot of work.We do get too busy sometimes but this Mother's Day, I've had to remember what is important.
Food shared tastes so much better than eating alone.
How do you open your home to friends or family?