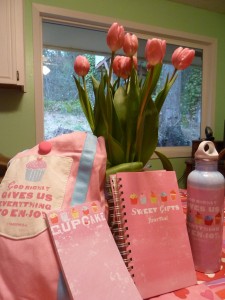 Life is hard sometimes.
It moves faster than we expect. It takes us by surprise so sometimes we need reminders.
We need to be reminded that we are loved by the special people in our lives. We need to be reminded that others carry a heavy load.
My DaySpring "stash" came in the mail last week and it had a few great reminders for me. Inside I received a tote bag, a water bottle, a journal and notepad that had 1 Timothy 6:17 on them:
God richly gives us everything to enjoy.
Wow, what a beautiful reminder that I am to enjoy the good things in my life that are from the Lord: the good people, the beautiful things around me;
my cat's incessant curiosity,
my dog's expectant look,
my oversized son's hug,
the rain that I dread but it keeps things green here in Oregon,
my hubby's nightly question, "Do you want tea?"
And did you notice the color of all the goodies? Some days I think the Lord makes pink just for me. 🙂
I have to say that I received these goodies from DaySpring but I'm not paid to say that I love them. But I do!

I also get to give away a $20 DaySpring coupon to one of my readers so please leave a comment about what good thing have you been reminded of lately?
You know the rest – Tweet this post and/or put it up on facebook and you'll get two more entries for a total of three entries to win a coupon. Remember to leave a comment to tell me that you did.
The contest is closed Thurs, Feb 23, 5 pm PST.