As a seasoned mom, I'm hard to impress. Period.
And that is why I'm thrilled to tell you about Debbie Koenig's new cookbook, Parents Need to Eat Too. It is thoughtful, packed with helpful information and she tells it like it is for new mamas. Her clever chapters are divided up in applicable ways including Nap-Friendly Cooking, Quick Suppers, Un-recipes for Partners Who Can't Cook, etc. She even has some recipes designed to make in stages in case you don't have 30 minutes in the evening because your baby is fussy. Why didn't I think of that?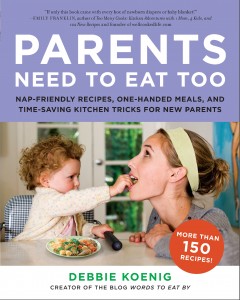 Clever!
Another one of her "why didn't I think of that" chapters is one-handed meals. Hello? That is ever so practical and tells moms that all of this craziness/lack of sleep/I don't think I'm going to make it through the next hour (we all went through or) you are now going through is "normal." Raising babies is such a gift but it's hard work. This book would be a terrific gift for a new mom. Check it out!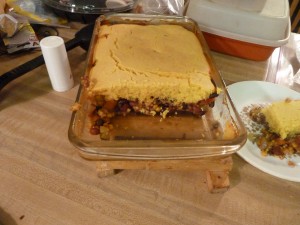 I made her Vegetarian Tamale Pie last night. It was yummy and I would tweak it a bit because I thought the cornbread topping should have been a bit sweeter for my family's tastes. I purposely made the larger recipe so we have some to eat the rest of the week. And look how pretty it is. (The book has all types of recipes in it – I picked the veggie one.)
Debbie shares the newest information on foods that support breastfeeding and includes some recipes. And what I really love about it is that all of her recipes were tested by over 100 moms. For me, that legitimizes her recipes even more. She put a lot of work and thought into this cookbook, and I highly recommend it to any new mom.
And anyone who orders the book before February 21 receives a FREE Digital Starter Kit including bonus recipes, a gift card, and MUCH MORE!
Oh…and did I say I also get to give one away, too? Yay!
Please leave a comment about cooking and babies to enter to win a copy. If you don't yet have children, leave a question for Debbie about cooking for your entry.
You can get a second entry if you post this on to your facebook.
Contest is closed Wednesday, Feb 22 at 5 PM, PST.