By Marijke Vroomen Durning
Today I would like to introduce my guest blogger, Marijke Vroomen Durning. She is gathering stories about games we used to play as children. She invites people to visit her website to read other stories and to submit a memory of a game (or games) they played, perhaps discovering that these favorite games were also played elsewhere with different rules or under a different name.
www.gamesweusedtoplay.ca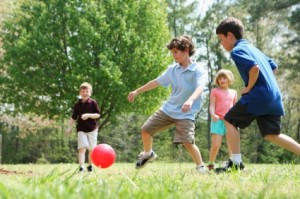 Has running free in the park or playground become a thing of the past? Children roaming the streets playing spontaneous games of hide-and-seek when the sun goes down, games of tag in the school yard, pick-up games of kickball in the park, or day-long games of hopscotch on a grid drawn on the sidewalk in the middle of summer – is this now all a distant memory?
Western society has changed a lot since the 1980s. More parents are working outside of the home, families are smaller, and they're spread apart. They often live in different cities, states, even countries. All these changes have resulted in how people interact with each other. Because more children are in daycare, they aren't at home to play with neighborhood children. With smaller and more scattered families, there aren't groups of siblings and cousins who can gather friends to begin a pick-up game in a local park. When parents come home from work and the children home from school and daycare, there isn't much time to go outside and just "do what you want to do." There is so much else to be done.
Of course, we can't forget the fears that keep parents from allowing their children such freedom. There are fears of strangers and traffic, worries about children getting lost or not being able to hold their own against bullies. By keeping their children close to home, these fears can be pushed aside, replaced with the knowledge that their children are safe. But while the children are safe, is keeping them so close, not allowing them the experience of free play, good for them? Some would argue that it isn't.
Free play, those endless games of Red Rover, British Bulldog and Four Square, teach our children more than we may realize. While they may get the chance to play certain types of games at school under the watchful eye of the teachers or playground supervisors, they are denied the opportunity to learn how to deal with conflict without having adults around to help them.
During free play, children have to learn how to deal with another child who may not want to follow the rules; they may have to cope with some children interpreting rules in a different manner, and they have to figure out what to do if someone says, "I'm taking my ball and going home." There is no adult to tell everyone to play fairly. There's no adult there to ensure that people take turns. The children have to figure this out on their own. They have to decide how to play a game that requires 10 people but they only have seven. They choose where the baselines are and where the "safe zones" are. In other words, they are creating their own play world with their rules – and then they play in them.
The children don't reach the playground with a checklist of tasks they must cover before they begin playing hide-and-seek, but they instinctively know that they have to make some decisions before the game can start – where is home base? How high does the person who is "it" count? What hiding areas are off limits? A game of Red Rover means they have to decide on what is in bounds, what is out? And the list goes on.
As adults, these decisions may not seem very significant, but think about the skills the children are learning while they are organizing the games and then playing them. If they are able to negotiate and keep "Ryan" from taking his ball and going home, and stand firm as a group, keeping "Katie" from trying to cheat, they are learning how to work their way through an imperfect world. If they were in an environment where an adult would step in and solve the problems before they escalated, what have they learned? They could come to the conclusion that they can't solve their problems on their own.
Are there hurt feelings when children play without adult input? Absolutely. It hurts to be picked last for the team or to be told, "go play for the other team," and it's infuriating when the other team tries to cheat, but these are situations that will occur later in life, off the playground. The reality is that you aren't always picked first in life. Bosses pick more qualified candidates, schools award prizes to the best or the most improved. Things aren't always equal. And, as much as we'd like to avoid it, we do come across adults who try to cheat us and move ahead at our expense.
It may not be as easy today, in 2011, to carve out the time and space to allow our children the free play we may have enjoyed, but the lessons they take away from these opportunities add up over time. And if part of being a parent is helping our children learn about how they will manage their way through life, then providing them the chances to play these seemingly mindless games may be one of the best gifts you can give them.
 Photo Courtesy of Marijke Vroomen Durning
What memories do you have as a child about free play? Have you been successful in getting your kids outside to play?