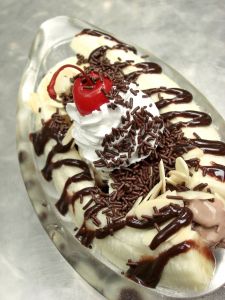 With our 3 day Labor Day weekend coming up, you don't want to work hard, right? Here's a simple, simple hot fudge recipe. We don't remember where we found it and after you taste it, you won't care.
1 can fat free evaporated milk (12 oz)
2 1/2 cup chocolate chips
3 Tblspn butter
1/2 cup sugar
Mix all together in a glass container and microwave for two and a half mins. Pull out and stir well. Microwave again for one and a half min. Stir well. Enjoy. It's yummy on ice cream or fruit and it's a favorite of our guests, too.
Have a fun, joyous, safe holiday. (This isn't a picture of the fudge because it's much thicker than this fudge shown in here…Are you going to try it?)