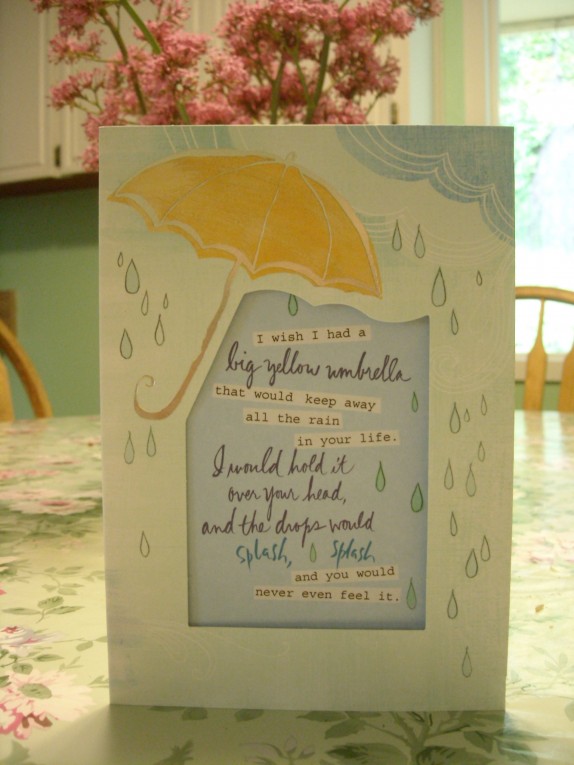 In our tech-drenched world, it's so easy to become distant from our friends and even our own family. I often forward certain emails to my hubby's email, just in case I forget to talk to him about some issue.
That's why we should bring back sending cards to each other. Doesn't every mom love the idea of finding a card perched inside her mailbox when she peeks in? If you're having a bad day or even a bad week, isn't it wonderful to walk back into the house, grab a cup of coffee or tea, plop down on the couch and open the envelope. What a way to encourage a friend or loved one!
And I hear some of you (me included) comment on the costs of cards yet the cost is less than a cup of coffee. Ladies, what are you waiting for? Next time you're out, take a few minutes at the grocery store or bookstore and peruse the stacks of cards and pick one for a special friend.

So why this blog post? I'm participating in DaySpring's Inspired Deals Review where I picked out a selected  item of theirs, they sent it to me and I get to talk about it on my blog. How fun is that!
So I picked their Encouragement card set and WOW, I was pleasantly surprised. These cards are contemporary, fun and heart-felt. You know when you stand at the card stand and there are some really "gooberish" cards that you wouldn't even send your grandmother…These, ladies, are fun and sweet! And just to be legal: DaySpring sent me these cards at no cost to me and I'm not being paid to write this blog post. 🙂
I also get to give away a $20 gift certificate to anything at DaySpring Online Store. So please leave a comment in the next 48 hours on when was the last time you received a NON-birthday card and how did it make you feel? Or when was the last time you sent a NON-birthday card? Tweet this and you get a second entry.
AND TO SHARE THE LOVE, IF YOU SEND ME YOUR ADDRESS AT JAN@JANUDLOCK.COM AND TELL ME WHY YOU NEED ENCOURAGEMENT TODAY, I'LL SEND YOU ONE OF DAYSPRING'S CARDS. I LOVE 'EM THAT MUCH! (I'm not yelling; I just want to make sure you see this added hug to you.)