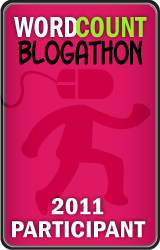 Have you ever thought about blogging? Do you have a blog now but find it difficult to find content to blog about? Do you need some motivation to keep up with it?
Or how about, do you like prizes?
Then join me along with other fellow bloggers in WordCount's 2011 Blogathon for the month of May. Last year I had given it some thought about joining and at the very last moment decided to resurrect my decrepit blog and started on May 1st. (I don't recommend that though.)
Below are some reasons to join taken directly from Michelle Rafter's Wordcount post:
But there are plenty of reasons why it pays to become obsessed with blogging for a short time:

To gain experience to look for paid blogging work.
To gain expertise in a subject you want to write about for paid markets.
To build traffic.
To etablish yourself as an expert.
As part of building a personal brand.
To help promote a book, e-book, e-newsletter or other product or service you're selling or hoping to sell.
To start a blog – or a second or third.
To improve your SEO skills.
To make money from advertising, affiliate programs or other blog-based enterprise.
Friends, please think about it. I met some great, helpful people. I learned more than I expected. Michelle R. challenged me to learn twitter and I'm so glad I did. And I happened to win two of the many great prizes they had for bloggers who finished the entire blogathon.
And remember you can blog about anything. It's your gig. Also, there are some preplanned ideas throughout the month of May that will help you with ideas. You get to add this badge to your blog, too…Whoever designed this badge is a genius. Did you notice the color?
All you need to do is visit Michelle's blog and fill out a simple form. Please, let me know if you have any questions. So are you going to join?