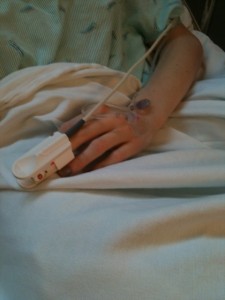 As I sat in the hospital waiting room, my mind swirled with questions like: will she be able to hear again? Does she have to wear hearing aids forever? What will we do for pain? How are the other kids doing at home? How should I plan the rest of my week? etc. etc.
I was on edge. I couldn't concentrate on anything, and I felt I would bark at someone if they asked me a simple question. I know I had people praying for her and our family and I felt His presence but I still felt totally at odds. And I hated that feeling. So. out. of. control. Lord, this is hard again. We've/She's been through this six other times so why is it so hard on me as the parent?
I felt selfish as a parent and frustrated because I couldn't concentrate on anything for days afterwards. She's the one who had the surgery. And yet the stress of pre-surgery, surgery and post-surgery got to me.
Then blogging came to mind. Hmm? So many times when I blog I want to look like I'm the together parent with all the right answers. I want to be the cool parent with boundaries. With. all. the. wisdom. OUCH…Not very pretty but brutally true.
I think God created us to need others. And sometimes He sends us gentle reminders to be human and accept the fact: This not so perfect mom needs to remember that she's human and it's okay to fall apart…really, it is.
P.S. Update: We layed low last week, and she's doing just fine…mom, too.